An article in this week's BioTuesdays profiled a quiet biotech firm that may start to make some noise with their focus on personalized cancer treatment. While the emerging biotech may find themselves deep in the middle of the most powerful trend in cancer treatment right now, OncoVista Innovative Therapies (OTCBB:OVIT) has been developing specialized drugs that target leukemia, colon, breast and prostate cancers for some time- all the while knowing that cancer patients do not respond uniformly to a given drug regimen.

As oncologists tell us, one highly efficacious treatment for a cancer patient is often ineffective for another- even if these patients present an identical diagnosis.

The solution offered by OVIT includes detecting cancer cells circulating in the bloodstream, which express certain biomarkers. By doing this, doctors can treat patients with a targeted drugs.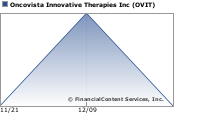 "We use diagnostic technologies to determine which patients are most likely to benefit from a drug candidate—and which patients won't," says Alexander Weis, Founder, CEO OncoVista Innovative Therapies. "Equally important, our business strategy is to acquire other drug candidates as well as acquiring diagnostic tools that will enable us to develop faster, more effective, less toxic and cheaper cancer treatment regimens."

OncoVista certainly appears to have the experience and the funds to realize its ambition.

The company's recent sale of its majority interest in AdnaGen AG, a Germany-based company with a world-class molecular diagnostic capability for the detection of circulating tumor cells, has provided $3.5 million in cash on hand and the potential based on meeting certain balance sheet and other milestones for an additional influx of $64.7 million. In addition, the company appears poised to make some key acquisitions in the very near term that will likely capture the attention of the biotech investment community.
In a recent interview with the San Antonio Business Journal, Weiss disclosed that he was looking for one or two more anti-cancer drugs to enhance the San Antonio-based biotech company's portfolio. In addition, he said he has his eye on a new diagnostic tool that would be even better than the one the company currently uses to evaluate patients for various therapy drugs.
The company has been quietly working on these and other developments during the past few years, and while some feel the progress has been slow Weiss insists that things will start to look very differently for OVIT investors. In fact, he wants to grow the company's market cap exponentially in the next two years and seeks for it to double in the next six months.

If that sounds like hot air considert this: Weiss was co-founder of ILEX Oncology (NASDAQ:ILXO), which was sold to Cambridge, Ma.-based Genzyme Corp. in 2004 for $1 billion.

"This demonstrates our experience in growing a successful biotech company," says Weiss. "OncoVista has the expertise in personalized cancer treatment and we have been watching this highly specialized area become increasingly accepted as the next generation of cancer care."

The company's existing compounds are:

• OVI 123 is a Phase 1/II reduced-toxicity drug candidate for the treatment of leukemia that can be identified with the biomarker TdT, that is, refractory deoxynucleotidyltransferase. It has a $350 million market and a seven-year orphan designation from the Food & Drug Administration.

• OVI 117 is a compound for the treatment of solid tumors, found in the breast, colon and prostate, with the biomarker TS, that is, Thymidylate Synthase. OncoVista is completing animal testing and preparing the IND submission and expects to launch a Phase I trial in the fourth quarter of 2011. "It would tap into a potential $1 billion market," explains Weiss. "We plan initially to target colon cancer, the third most common form of cancer, with this compound."

Keep an eye on OncoVista as it appears the company may finally be positioning itself to go to the next level.

"We want to acquire the next generation of diagnostic technologies and have a lot of people who want to partner with us right now," says a quietly confident Weiss. "And we want to make sure that we pick the right one."
If news develops, we'll follow up with more coverage as well.
Disclosure: None



BiomedReports is not paid or compensated to report news and developments about publicly traded companies. Full disclosure can be read in the About Us Section