NexTech AR Solutions Corp (CSE:NTAR) (OTCMKTS:NEXCF) has unveiled a new analytics dashboard that lets businesses track the performance of their augmented reality ads in real time.
The company's ARitize platform converts 2D visuals into 3D AR models that users can view from every angle and even project into their own space. With the dashboard, businesses using NexTech's technology can watch how much time customers are spending interacting with an ad and even when they add a product to their cart.
"With our new shareable real-time analytics dashboard, brand managers and online e-comm channel managers are able to measure their click through rates, dwell time, and add to cart for 7, 30, 90 and 365 days, which is a must in the world of e-commerce," NexTech CEO Evan Gappelberg said in a statement.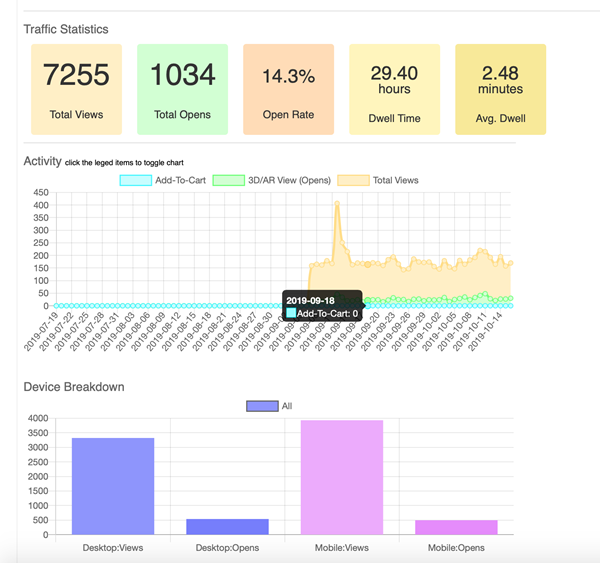 The data, Gappelberg said, makes clear the benefits of using augmented reality in advertising.
"We are super excited to see that our subscriber analytics consistently confirms that the average time-on-page with a 3D AR product is several hundred percent longer when compared to a regular 2D photograph or product video resulting in record levels of brand interactions," Gappelberg said.
"Similarly, there is a 100% to 400% increase in add-to-cart activity from the same WebAR experience, effectively turbo-boosting online conversions and ROI which we expect will drive more and more ecommerce sites to adopt WebAR. This dashboard will be key to ensuring that more businesses decide to use AR in e-Commerce," he added.
Shares of Nextech rose 2.1% higher Thursday to C$0.96 on the CSE and 3.5% to US$0.74 on OTC Markets.
—Updated to include stock movement—
Contact Andrew Kessel at [email protected]
Follow him on Twitter @andrew_kessel