Talon Metals Corp (TSE:TLO) (OTCMKTS:TLOFF) said Monday it found more areas of nickel mineralization outside of the current defined resource area at the Tamarack project in Minnesota.
The company told shareholders that a new drill hole approximately 350 metres outside of Tamarack's resource area in the CGO East area intersected shallow nickel mineralization, indicating a new zone.
Results from the drill hole included 2.6 metres of massive sulphide mineralization starting at 242.8 metres within a larger mineralized interval of 21 metres, from 234.6 metres to 245.6 metres.
The CGO East area has the potential to host shallow, wide sheets of mineralization that may stretch over an area of 500 metres by 900 metres. Talon has drilled four holes in the area as part of an ongoing drill program at Tamarack.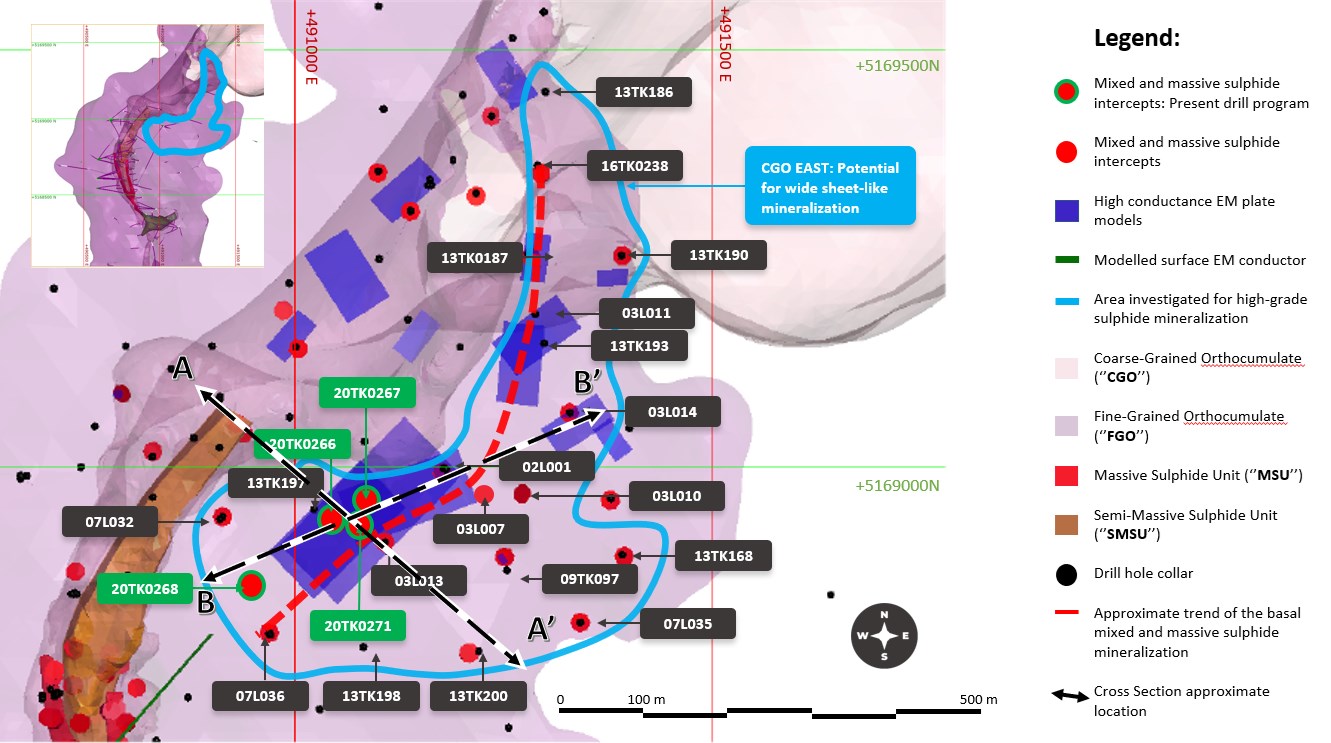 Plan view map of the CGO East mineralization
Mineralization within the area is not included in Tamarack's current resource and, if delineated, could add "significant" tonnage to the overall resource and mine plan, according to the company. A 2018 resource estimate showed higher confidence indicated resources of 3.6 million tonnes at 2.5% nickel-equivalent with additional inferred resources of 4.4 million tonnes grading 2.1% nickel equivalent.
Tortola-based Talon said it plans to continue drilling in the area during the winter drilling season and is adding a second drill rig this month to expand its program.
"Talon's ongoing drill program at the Tamarack project continues to produce massive sulphides," said Brian Goldner, Talon's head of exploration in a statement.
"We are really looking forward to receiving the assays for new drill hole 20TK0271, which was an off-hole BHEM anomaly from drill hole 20TK0266. Drill hole 20TK0271 intercepted shallow massive sulphide mineralization approximately 350 meters away from the company's resource area, with an additional thick mineralized intercept just above it."
Key asset
Tamarack is a 124 square kilometre asset that includes the Tamarack North project and the Tamarack South project.
An updated preliminary economic assessment dated March 20, 2020, suggested an after-tax net present value (NPV) for the project of US$291 million, at a 7% discount rate, and an eight-year mine life, 2.8% nickel-equivalent head grade.
The firm is advancing Tamarack to potentially supply the rapidly growing electric vehicle battery materials market.
Shares of Talon grew nearly 11% on Monday morning at C$0.31 in Toronto trading.
--Updated to include share price--
Contact Angela at [email protected]
Follow her on Twitter @AHarmantas